There is no doubt that everyone loves to explore new places or to do travelling while they travel for long period of time or short period of time, there is one common thing that is required in both time period travelling and that is travel essentials. In holidays, mostly people go out to new places to explore them and to spend time with their family at those new places and make memories for life.
Though you already know what things to be pack for a trip but still there are times when you forget essential things that is a must to be taken on a trip, so its better to avoid last min chaos just a make a list of what you want to take on a trip and what not. That'll make your work much more easier and then you will not face any chaos or problem in your time. But there are times when you make a list but still forgets some things, so to avoid this situation too just check your bags before leaving so that it'll be good for you as if you forget something to pack you can add that thing and go for the trip.
When considering what to pack for a trip, things can get overwhelming quickly, and we understand that. Here is your travel essential check-list.
So lets have a look at the some of the travel essentials for men –
Duffle bag for travelling – The duffle bag is highly useful in travelling trips and is highly durable. It can also keep your items safe from the harsh treatments at the trip as you keep your bag anywhere and at the airport too as the bag has high-quality plastic cushioning at the bottom.. There are many capable zipper pockets as well for keeping small stuffs like keeping electronic items, personal things and more. It also has removable shoulder straps and grip handles at the same time.
2. Travel kit – Its better to maintain a travel kit to avoid the stress of unexpected travel complications. Hygiene is very important while travelling as you get to experience different environmental conditions so keeping your shampoo and body was is a must. Travel kit may include toothbrush, toothpaste and dental requirements, deodorant it'll make you smell good, keep your razor, shaving cream and after shave lotion to maintain yourself and look best at it, Moisturizer, lip balm is always good to carry because of environmental condition, band-aid, medicine as it is must to keep, hand sanitizers, goggles, and the stuff you would like to keep in your travel kit.
3. Clothes according to your mood, your holiday destination, your personality. You can mix n match your clothes according to your taste and try something different and maybe you'll feel good after trying something different and new in your clothing sense.
4. Shoes – While travelling shoes are a must thing. While travelling men usually try different types of shoes according to their need like lightweight or fit to occasion. A pair of good sports shoes can go with every outfit you wear while travelling like comfortable clothes and more. You carry your normal shoes when travelling for business meetings or conference that matches your attire. You can carry loafers as they are universal they look best with all looks.
5. Other accessories – You can add other stuff to your travel bag which you like and think that it will be helpful for you for the trip like reversible belt, hat or cap, headphones, another sim card as while travelling if your normal sim doesn't work you will be having another sim for your calls.
Now we'll have a look at some of travel essential for women –
Carry on suitcase – One of the most important items while travelling is suitcase. It doesn't matter whether you are doing a jungle trek or doing trekking in valleys a backpack is very much in need for everyone. For a girl it is very much in need as they have to carry so much with them and their personal stuff too, so a good and strong bag is highly recommended.
2. Multi-pouch makeup bag – It is very evident that what makeup means to women. Whether its a trip or an event women loves to do makeup and look beautiful. Doing makeup is women personal choice and who doesn't want to look beautiful in photos while travelling. There are so many makeup influencers who inspires to teach how to do makeup while travelling that suits you and doesn't look heavy. So its better to carry multi makeup pouch which keeps your makeup material sort out so that you can find all your things at right time and saves your time.
3. Lots of clothes – While travelling you need lots of clothes specially women. They need different clothes according to different occasions or places. Like visiting a beach you need different clothes, while shopping you need different clothes, while going out on the trip you need different pairs of cloth and so on, so keeping different types of cloth while travelling will be beneficial for you.
4. Pads or cups for menstrual hygiene – Periods are uninvited guests specially while travelling so there are many trips you'll be going while on periods because you can't cancel your plans because of periods. So, its better to keep these things with you so that you will not face any problem while travelling.
5. Good footwears – Just like you need to keep comfortable clothes, you need to keep comfortable footwears too and variety of footwears that will be complementing your dresses. Like you can keep your boots, your heels, your shoes and more,
6. Another sim card and power bank – While travelling sometimes your sim card doesn't work at some places and you can't communicate so its better to keep another sim card for these situations. Power bank is very essential as your phone can die anytime while travelling like you are on trekking and your phone dies so you can charge it with your power bank. So its better to keep these things with you.
7. Handbag – Its a must thing and you can't leave without it as you keep a lot of things in it while travelling, all things you need in hand including your personal stuff.
8. Mini wallet – As you cannot take out your hand beg every time that's why you need this that can be taken out at anytime.
There many other things that you can add to your list according to you like sunglasses, suns cream, moisturizer, first-aid, headphones and so on.
Some other stuff that you can add like
Sanitizer
First aid
Suns cream
Steam iron
Wet wipes
Lip balm
Rain gear
Mints
Extra masks
Travel pillow
Sleeping mask
Universal adapter
Miro USB cable
Portable charger
Passport and card holder
Noise cancelling headphones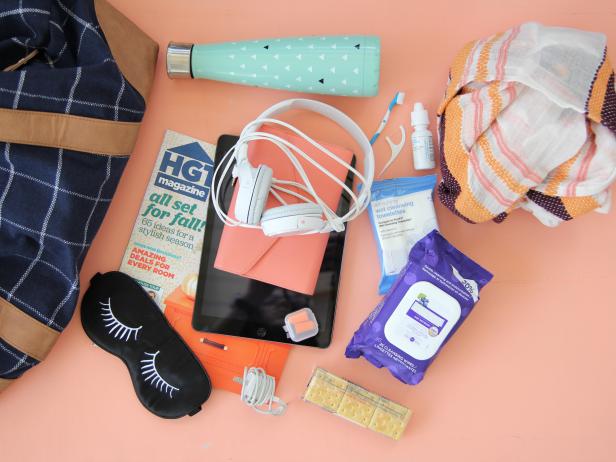 THANKS FOR READING…