Proper food works as a fuel for body and authentic Indian food is best at it. Spices used in Indian food are not just to add good flavour and taste to food but also to ensure good health. Spices play an important and major role in the way how we cook food and consume it in India. People has different taste buds and in India every one is a food lover whether they like spicy food, non-spicy, mild food, and more, and the major part played in all these types of food is by spices. As without adding any spices the food is not complete whether it is non-spicy, mild food, spicy or other types of food.
Indian food is famous all over the world not because of its everlasting and delicious taste but also with the spices which has been added to it which has its own essence and flavour which makes the Indian food more delicious.
Lets have a look at some of the Indian spices that benefits our health –
TURMERIC (Haldi) – This yellow spice gives colour to many dishes and is known for its anti-inflammatory properties, and for being a flavour and colour addition in curries.
It has been used as an ingredient in India for thousands of years as a spice and as a medicinal herb too. Main compound in turmeric is curcumin which has been proved in reducing number of heart attacks patients have after bypass surgery. It has also been beneficial in treatment of stomach, skin, gall bladder problems, liver, inflammatory arthritis, low cholesterol levels and is full of antioxidants.
2. CUMIN (Jeera) – Cumin has been a rich source of iron and has been used in traditional medicine. It is very much rich in antioxidants and has shown to provide anti-microbial and anti-inflammatory properties. It has also found that it helps to aid in digestion and helps in reducing food-borne infections.
Cumin powder is also added as it helps in a low-calorie diet and can help in weight loss. It is used in many popular Indian snacks.
3. GINGER (Adrak) – Ginger has been found to contain hundreds of compounds and metabolism, and which may contribute to health and healing. It has been used in the treatment of nausea, pain and inflammation and is known as one of the best ingredient in digestion of food.
Ginger is proved to be an essential ingredient in Indian cuisine and helps in good digestion and that's why it is found in many Indian dishes like aloo gobhi, dal makhni, rajma and more.
4. CORIANDER (Dhaniya) – Both the leaves and seeds of coriander are very beneficial and are often used in many Indian foods as both a spice and to garnish the food. Seeds are often used as a spice in foods and leaves are often used to garnish the food.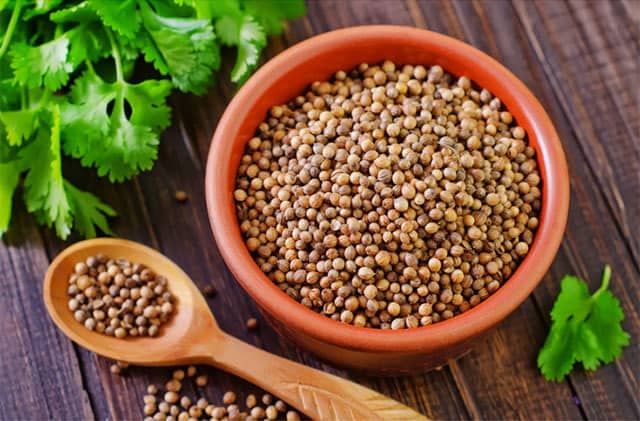 This spice or ingredient has inti-fungal and anti-microbial properties and is known to lower down blood pressure and lower down sugar levels and cholesterol levels too. They are used in many Indian foods and snacks like aloo tikki, pakodas, samosa and more.
5. CARDAMOM (Elaichi) – Cardamom is often used in tea, rice, curries, biryanis, non-vegetarian foods which act as a flavour boost to the food. Small amount of it can add whole flavour to the food.
This flavour spice is very beneficial for health and has been used in traditional medicines. This also contains antioxidant properties and has ability to help in fight cancer cells. It is used in many Indian foods as well as snacks.
6. RED CHILLI (Lal mirch) – This is a powerful spice and is very beneficial at the same time as it helps to protect the heart, reduce inflammation, aids metabolism and increase immunity.
The main and key element in red chillies is Capsaicin, which is responsible for health benefits and provides strong taste.
THANKS FOR READING…