The groom riding on the back of a horse, just being the prince charming, this beautiful bride had been waiting for, since she was nine, hundreds of people dancing, singing, celebrating, some other busy hosting more than a thousand people and the guests just rejecting every good thing. Rings a bell? Yes! That is what a Big Fat Indian Wedding Is! Will this showing off business take us anywhere? Why can't we just have a wedding to satisfy ourselves rather than some strangers? The tradition of BIG FAT WEDDING has been in India for as long as humans have existed on earth and even a slightest change is considered crime in the eyes of the envoys of these traditions. With fair variety of food amounts taking space in the rented marriage halls as deemed necessary and appropriate measure of the respect they give to their guest has to be toxic at another level.
Hidden Ills
These high budgeted, well planned, stretching for over a week weddings could be fun for people who can afford it but for those who are to take loans just to satisfy the people (of half of whom doesn't even matter to them), is something that definitely catches the eye. The issue with these weddings is that their sole purpose is not the happiness and contentedness of the bride and the groom but of the people who does not even knew the couple existed until before their wedding day. The show business is something that is worrisome to people who intend on getting married with lesser crowds and obviously lesser money. Because when these people do not follow the lead of burning millions in food, drinks, lodging, entertainment, for the people they hardly know, they are termed as misers, or even sometimes questioned if they are happy for their own wedding. The glorification of picture perfect wedding, the one where bride has at least one Sabyasachi or Manish Malhotra, groom gets a diamond ring for the engagement, there are as many as thousand shaguns given to all the guests, the hotels are no less than five stars, magnificent wedding sets inspired from dharma movies and only some 10-15 years worth savings going away with each step, is doing the harms it can in all the directions.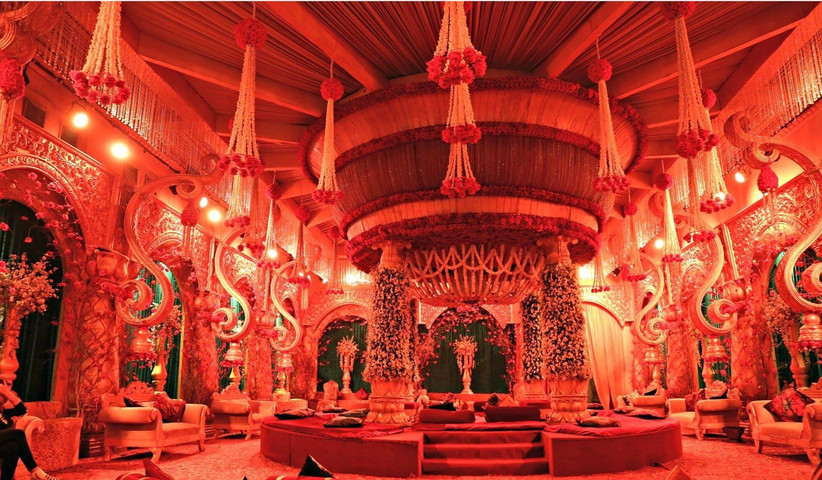 The amount to be spent on the wedding which was once one's own choice today has become not only the status symbol but also a way of getting much craved respect from far away relatives. The amount that is spent has gone so high that people are compelled to give up all their savings along with loans burden on their heads. Everything becoming expensive day-by-day, the total cost can range anything from 20 lakhs to 5 crores, which also happens to be some family's total savings or at least half of it. From decor to events to catering to photography with list adding on, the wealth drains with every event until it's over. 80% people take loans for the wedding expenses. Reliance Money has stated that "An Indian wedding is generally a three-day affair with different ceremonies and rituals lined up. Each ceremony requires its own set of apparel, set-up, and materials. The average cost of a single ceremony may range between 6 to 10 lakhs." Could we even think that these weddings are nothing more than wastage of money in its most prime way?
Refined Way
as the younger generation is getting married with their own money and not with their families taking loans, there has been a change in the way the weddings are being planned out. They marry on their own terms and more specifically in their own budgets. These new couples of 21st century aren't the ones who spend money to impress some strangers but the ones who plan and spend as their own needs. The court marriages have emerged as a new trend with only the couple and parents saving the money and mostly donating it. With covid hitting the world and restricting the number of people in weddings in India, people have been inviting guests that are close to them. Now weddings are turning into more of a private affair than a public one, with only limited guests and less spending, there by moving forward in the right direction of curbing the ills of BIG FAT INDIAN WEDDING.
Reference: https://www.reliancemoney.co.in/getting-married-in-india-what-does-an-average-wedding-cost